Initially introduced as a professional networking site, LinkedIn has now evolved into an effective channel for social selling. It is one of the best platforms available online that you can use for exchanging innovative ideas. It's no wonder that LinkedIn maximizes engagement and provides a platform to generate leads and close business deals.
LinkedIn can help find just the right prospects through professional network leverage. Over time it has become a social selling channel for corporates, individual brands and businesses.
LinkedIn as a Social Selling Platform
Social selling is all about the utilization of the social networking platform to connect with prospective customers and business partners with an ultimate motive to drive sales. Users can practice these ways to make effective seller platform
Professional brand creation: Finding trustable vendors and customers drives B2B purchases and sales. With a full-fledged professional brand recognition presenting chief industry participation, businesses can attract higher prospect inquiries and conversions.
Insightful engagement: With participants fluently taking part in insightful engagements, getting subject expertise is not a challenge for businesses.
Prospect-oriented focus: Businesses can find prospects through LinkedIn Sales Navigator (LSN). It provides much better leverage to business exposure than traditional techniques.
Relationship building: It offers a simplistic means of building connections and enhancing engagement. It provides a better business perspective visibility and helps to recognize pain points for building trust and business relationships.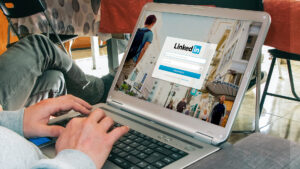 Tips and Tricks to Use on LinkedIn for Social Selling
Focus on location-based prospect research. It provides much-needed filter and helps reach out to the targeted audience more accurately. Using the right search keyword to find prospects can be the way forward.
LinkedIn makes finding business prospects better. You can look for the right leads in your connections to approach. Look out for industry-based mutual connections.
Another great way to research the right prospects for conversion is through LSN. It is a dedicated application that helps find prospects through keyword searches or emails. Provides a look at their professional profiles in detail for usefulness identification. You may prep up before meeting your potential client with these details at hand.
Approaching prospects with personalised InMail messages can be a key strategy to use for network growth and conversion to sales. InMails are a great way to forge new and meaningful connections on LinkedIn. It is a unique features that separates it from other professional networks.
Get memberships of and participate in content communities through original and relevant content posting. It can be across a wide range of insights. Like, existing ideas, presenting new ideas, and proving pivotal to establishing you as an industry leader.
It is also critical to engage in follow-up messages, ensuring prompt interactions with prospects for trustworthy relationship building. Top corporate organisations like HCL, TCS, and Infosys have leveraged LinkedIn to improve their business presence and drive conversions.
Case Studies – HCL and Infosys
1. HCL
HCL Technologies' sales team found a newer and better approach for prospect recognition, engagement, and conversion. They identified the rapidly altering B2B buying environment that distanced itself from traditional approaches like cold calls and emails.
They changed their prime areas of focus, narrowing them down for prospect recognition. The results were clear and concise.
They added over 7,000 decision-makers as connections in the next 6 months.
New deals reached a contract value of more than $500 million.
The next 6 months saw 2,500 new accounts with decision-makers.
The next two quarters saw a 200% increase in InMail sending.
Connections multiplied 17x.
Niladri Mukherjee, Area Sales Director for Scandinavian Markets, finds the insights obtained from Lead Builder useful for building connections.
2. Infosys
Infosys' success in improved deal cycles is another prime example of positive LinkedIn Sales Navigator use. In 2015, Infosys identified two prominent areas of improvement in its socio-professional profile for overall productivity enhancement.
Identification of new leads and prospecting them
Engagement of leads through their sales cycle
Infosys found the answer in LinkedIn Sales Navigator. It identified the right stakeholders for engagement, timing and approach of such engagements.
The results were striking:
Out of all closed deals, 31% were generated through the LinkedIn app's social selling.
Compared to deals uninfluenced from LinkedIn, those influenced had a 30% higher win rate.
The total pipeline influence post-sales navigator use was valued at 450 million dollars.
Nitesh Aggarwal, AVP, Sales Effectiveness, says that LSN helps find and engage with interesting prospects during the entire sales cycle. Jagjit Singh, Manager, Sales Strategy and Transformation, says that finding connections that like and trust them has become smoother.