According to dentsu 2021 forecast for Global Advertising Spend report, global ad spend is expected to grow by 5.8% in 2021, which stands against the steep decline of 8.8% in 2020. In the Asia Pacific region, the growth is expected to reach 5.9% due to the recovery from the pandemic by appropriate government measures and vaccine implementation.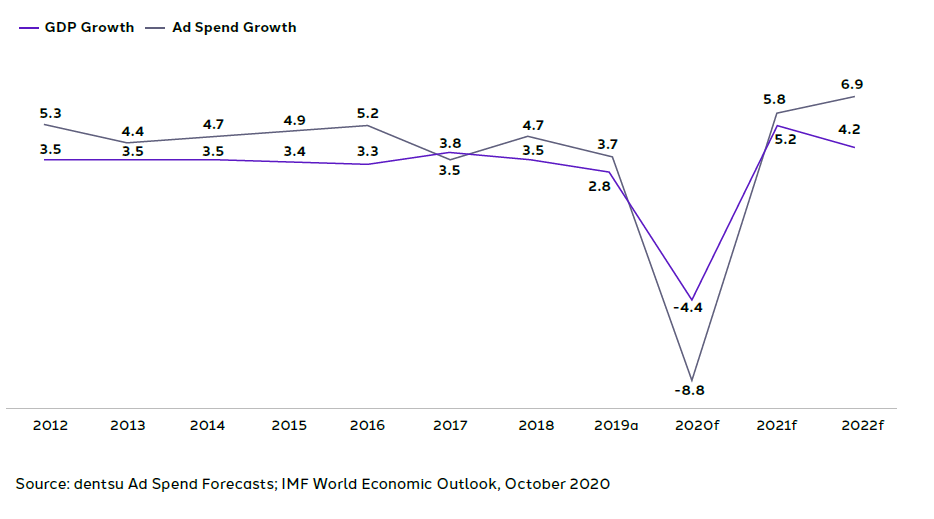 Staying indoors and working from home became the new normal. Consumers shifted to at-home media, and with a shift in consumers' behaviour towards digital consumption, the advertisers prioritized digital advertising. Hence, the ad spend on out-of-home, cinema advertising, and print advertising fell shockingly.
However, in 2021, the scenario is improving. Global ad spending is recovering from the shock of 2020. Event advertising is projected to increase in several regions, contributing to the rejuvenation of the OOH. Delayed events like the 2020 Olympic & Paralympic Games and UEFA European Football Championships are the main drivers of ad spend's growth in Japan and Europe.
As per the dentsu report, the 2021 global ad spending is expected to be lower than the pre-pandemic level, but 2022 is likely to be a better year for ad spend's recovery.
India (10.8%) and the UK (10.4%) have the highest projected recovery ad spend rates for 2021 and 2022.